From 29.06.2021 11:00 to 29.06.2021 12:00 (your local time)
Click here
to start the meeting.
Required Literature
No prior reading is required.
About the lecturer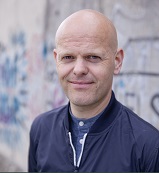 Jesper Clemmensen grew up on the Danish Baltic coast. The author and TV journalist spent seven years researching the individual fates of GDR refugees. His reportage book "Flight Route: Baltic Sea" (Flugtrute: Østersøen, Gyldendal) was awarded "Best Book on History" in Denmark. This book is the basis of the documentary film "The Escape", of which he is the director.